This year we're aiming to highlight 50 creative thinkers that have inspired us, by giving them the opportunity to guest curate this newsletter, Strands of Genius. Rosie, Faris, and Karen met through a mutual friend, Joe Cox!
---
:: A BIT MORE ABOUT GUEST CURATOR, KAREN FAITH ::
LOCATION: NYC
PLACE OF EMPLOYMENT: Sub Rosa
I'm a covid-furloughed ethnographer, strategist, and empathy trainer living in lower Manhattan. I met Rosie and Faris at an ax-throwing club in Kansas City, Missouri, in the company of our mutual friend and full-bleed champion, Joe Cox. I'm over 40, single, sober, petless, childless, and none of that matters but black lives do.

In light of the state of emergency in the United States, I'd like to share a selection of links around the topic of understanding and connecting with others, with a note of emphasis: One of the mechanisms of racism is to erase the individual and replace it with the general. Fighting racism happens one on one, person to person. It means having difficult conversations with people you love, asking for honest reflection about your own blind spots, and resisting the impulse to generalize about others, even and especially those you disagree with or don't understand. This is empathy practice, and it's real work.
I wish you courage and clarity in the journey.
Editor's Note: We threw axes with frightening abandon and limited accuracy in Kansas City while discussing all the things and found many areas of overlapping interest with Karen Faith. As a professional practitioner of empathy, she brings deep understanding of other lives to the brand and creative processes. Her thinking in this area has inspired us, and we hope it does you, too. Did we mention she has a ton of plants and is very fun to talk to? That, too. We're thankful to have her perspective today.
---
:: THE LINKS ::
ANTH101 TEN CHALLENGES
CLU
FOLKSTREAMS FILMS
---
Read more from Karen Faith including thoughts on what empathy really is and how to practice it, what design thinking can learn from the scientific method, and how to be brave and honest with yourself.

Access all our expert interviews for The School of Stolen Genius here.
---
:: AND NOW… SOME FAST FAVORITES ::
:: Game :: This one
:: City :: Mexico City
:: Book :: The Very Persistent Gappers of Frip, George Saunders
:: Podcast :: Dog Patch is a music show delivered by two extremely knowledgeable record collectors
:: Album :: This question short circuited my brain and I must decline to answer
---
:: YOU: BEING THE CHANGE YOU WISH TO SEE ::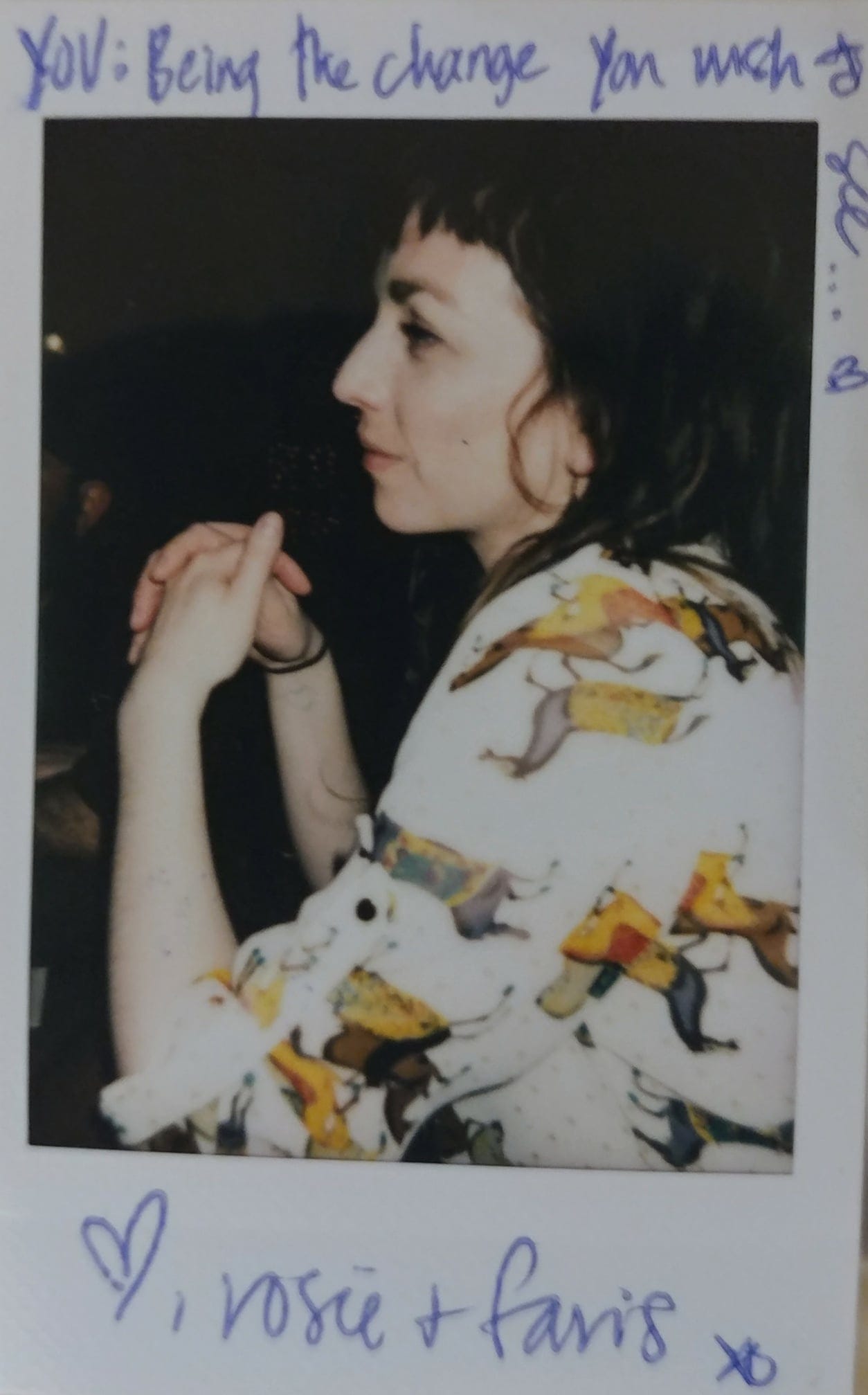 a photo, taken by Rosie the night we met <3
---
It Is Good To See Your Face But I Have A Favor To Ask (a quarantine poem from the series, You Have To Read It Funny Or It Sounds Like I'm Not Ok)
Before we go
Nowhere
If you don't mind
Would you look
At the lens
For me
So I can feel
The way it feels
To imagine
You would
Look at me
The way you look
At the camera
Karen Faith
email: karen.faith@gmail.com
linkedin
Know someone who could use some inspiration in their inbox? Send 'em our way!
---
Strands of Genius is currently read by more than 11,000 subscribers. Support us by sponsoring an issue, becoming a member of The School of Stolen Genius or encouraging friends or colleagues to subscribe.
---
It's called Genius Steals because we believe ideas are new combinations and that nothing can come from nothing. But copying is lazy. We believe the best way to innovate is to look at the best of that which came before and combine those elements into new solutions.
Co-Founders Faris & Rosie are award-winning strategists and creative directors, writers, consultants and public speakers who have been living on the road/runway since March 2013, working with companies all over the world. Our Director of Operations is nomadic like us, our accounting team is based out of Washington, our company is registered in Tennessee, and our collaborators are all over the world. Being nomadic allows us to go wherever clients need us to be, and to be inspired by the world in between.
Hit reply and let's talk about how we might be able to work together :)