Strands of Genius: Shakespeare on Zoom, 5 Changes to Expect in the Workplace After Covid-19, Save the First Draft of Coronavirus History From Internet Oblivion
Guest Curated by Emma Lynch
This year we're aiming to highlight 50 creative thinkers that have inspired us, by giving them the opportunity to guest curate this newsletter, Strands of Genius. Rosie and Faris spoke to Emma's class at London College of Communication via Skype last year and awarded the Genius Steals prize to Emma's work on immersive theatre.
---
:: A BIT MORE ABOUT GUEST CURATOR, EMMA LYNCH ::
LOCATION: London, UK




PLACE OF EMPLOYMENT: 
I am a recently graduated advertising master's student from London College of Communication which is a really great course in case anyone was thinking about doing one! Its strength is that it is not about creating traditional adverts. Instead, what you study pushes you to think about how communications will happen in the future — and how you might potentially shape it through the work that you create.
Faris, Rosie and I have not actually met IRL but they spoke to my class via a blurry skype briefing at university last year where they set topics for our dissertations, and whoever wrote the one that most closely answered their brief would get to guest edit this newsletter (which is me, YAY).
I researched how immersive theatre principles could be used to improve experiential advertising. Good news, they can! It was a really fun project because I got to go to lots of immersive performances with my friends and hang out with actors in theatre bars after shows in the name of academic study. It was a blast and I would greatly recommend it as a research topic because it's a lot of fun.
The prize winner also got given books from Faris's recommended reading list and I am currently enjoying reading them and filling up some of my lockdown time, big thank you Rosie and Faris! Hopefully I'll get to meet you (and the rest of humanity) in the real world someday soon.
Editor's Note (Rosie): Hit reply and ask Emma to share her paper on immersive experiences. It's impressive, and you're guaranteed to learn something new.
---
THE SCHOOL OF STOLEN GENIUS PRESENTS
Tuesday, May 26th: 9a PT / 12p ET / 5p GMT
It's been our most requested presentation, ever since we initially delivered it. We've helped big agencies, small agencies, red agencies, and blue agencies re-think their briefs and briefing process. (And admittedly, have had far too much fun than we expected in the process.)
The only way you'll be able to see the presentation is by signing up for The School of Stolen Genius, which is our experiment in building community and more in-depth learning opportunities. FRIENDSOFGS will get you 15% off our individual membership tiers, and we're hoping that if you work for someone else we can help you expense this.  Let's do this!!!
---
:: THE LINKS :: 
SHAKESPEARE ON ZOOM: HOW A THEATRE GROUP IN ISOLATION CONJURED UP A TEMPEST
So far, Zoom has transported me out of my home to endless quizzes, a crafting Easter brunch, Pilates, catch ups with friends and lastly, immersive theatre. Creation Theatre's The Tempest is an interesting exploration of how the platform can be used in an original and inventive way. One reason it was so effective was the audience visibility and feeling of togetherness which has been missing from a lot of other digitally performed events during the lockdown.

Using a digital platform to create collectiveness is impressive and offers up a new way of harnessing Zoom for communicating with audiences in more engaging and meaningful ways.  (The Conversation)
5 CHANGES TO EXPECT IN THE WORKPLACE AFTER COVID-19
THE RACE TO SAVE THE FIRST DRAFT OF CORONAVIRUS HISTORY FROM INTERNET OBLIVION
---
For our members of The School of Stolen Genius, be sure to check out our expert interview with Emma Lynch, here. You can find an index of all our expert interviews here.
---
:: AND NOW… SOME FAST FAVORITES ::
:: Game :: Articulate
:: City :: Barcelona (but currently willing to go anywhere that isn't here)
:: Book :: The Edible Woman by Margaret Atwood
:: Podcast :: Slow Radio >> My sister and I are really into slow media, especially slow documentaries and more recently slow adverts (thank you Waitrose). This podcast involves calmly voiced presenters offering minimum narration over a 15-30 minute recording of an environment.
:: Album :: I'm going through a bit of a folk phase at the moment so am recommending Country Mile by Johnny Flynn and the Sussex Wit, it's lovely.
---
:: THE FUTURE LIBRARY ::
The Future Library is one of my favourite things. It is currently being grown in a Norwegian Forest over a hundred year period with the library's content being written each year by famous authors, remaining unpublished until 2114 — when they will be presented to an unknown future generation.
---
Thank you so much for reading my guest curated edition! Stay safe and stay wonderful!
Emma Lynch
email: emmamargueritelynch@gmail.com
linkedin | instagram
Know someone who could use some inspiration in their inbox? Send 'em our way!
---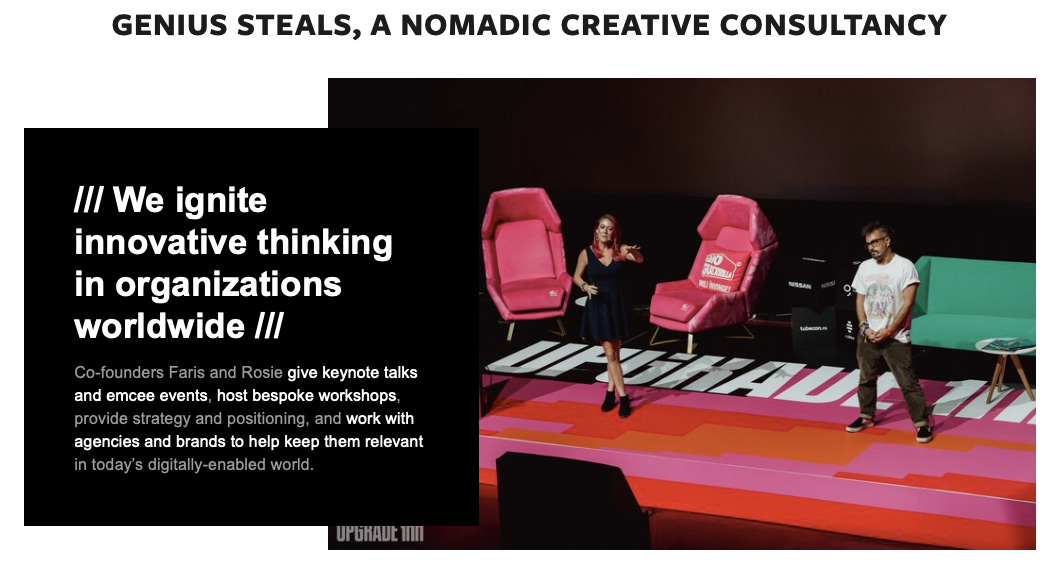 It's called Genius Steals because we believe ideas are new combinations and that nothing can come from nothing. But copying is lazy. We believe the best way to innovate is to look at the best of that which came before and combine those elements into new solutions. 
Co-Founders Faris & Rosie are award-winning strategists and creative directors, writers, consultants and public speakers who have been living on the road/runway since March 2013, working with companies all over the world. Our Director of Operations is nomadic like us, our accounting team is based out of Washington, our company is registered in Tennessee, and our collaborators are all over the world. Being nomadic allows us to go wherever clients need us to be, and to be inspired by the world in between.
Hit reply and let's talk about how we might be able to work together :)