Strands of Genius: The Bizarre Social History of Beds, Don't Try to Fix Anything Right Now, The Moral Responsibility of Selfies
Guest Curated by Nicole D'Alonzo
This year we're aiming to highlight 50 creative thinkers that have inspired us, by giving them the opportunity to guest curate this newsletter, Strands of Genius. Rosie and Faris met Nicole during their NYC days, and Ashley met Nicole at Whiskey Weekend. We're all big fans of Nicole and her 19 Minute Yoga app!
---
:: A BIT MORE ABOUT GUEST CURATOR, NICOLE D'ALONZO ::
LOCATION: New York, New York
PLACE OF EMPLOYMENT: Founder, 19 Minute Yoga
I first met Rosie & Faris when we were all living in NYC (#agencylife). They were some of the very first beta testers of my app, 19 Minute Yoga. Rosie's supportive notes about my new project meant so much to me, as I was a non-technical founder in the trenches of development :) Thanks, babe!
Yoga builds mindset muscles like self-observation without judgment and finding ease in discomfort, along with reducing anxiety. Useful skills right now. This new normal has me thinking about my anxiety more than usual. And why is anxiety always in a rush? It's 10pm and I have to fix everything - now! I try to remind myself it's not real and the sky is not falling. I count on yoga to ground me back in reality (I increased my "dosage" in self-quarantine).
I love connecting the dots between yoga and science, and below I'm sharing links on sociology and psychology, including how you can be your own resource and ways to help others.
Editor's Note (Rosie): From the moment I met Nicole, I knew I liked her. She was killing it at work, but still had this undeniably playful side and joie de vivre. When she and her partner packed up their NYC apartment, and joined the semi-nomadic tribe, we saw them almost more than when we were living in the same city! And certainly for more meaningful periods of time.
Nicole's voice is one of my favorite voices of all time. It's calming and reassuring, yet inspiring and motivating. And 19MY takes up less than 20 minutes of your day, which means you always have time for it. I've loved the app in all its iterations, but especially proud of Nicole and what she's put out there today. Thanks for curating todays edition, Nikki! I especially loved these links!
---
:: THE LINKS ::
THE BIZARRE SOCIAL HISTORY OF BEDS (& PERMISSION TO TEXT IN BED) #BETTERTOGETHER
DON'T TRY TO FIX ANYTHING RIGHT NOW
THE MORAL RESPONSIBILITY OF SELFIES
---
:: AND NOW… SOME FAST FAVORITES ::
:: Game :: Tetris on the original NES (yes, we have one)
:: City :: NYC & Firenze
:: Book :: The Age of Innocence by Edith Wharton
:: Podcast :: How I Built This with Guy Raz
:: Album :: U2's All You Can't Leave Behind and Something's Gotta Give Soundtrack
---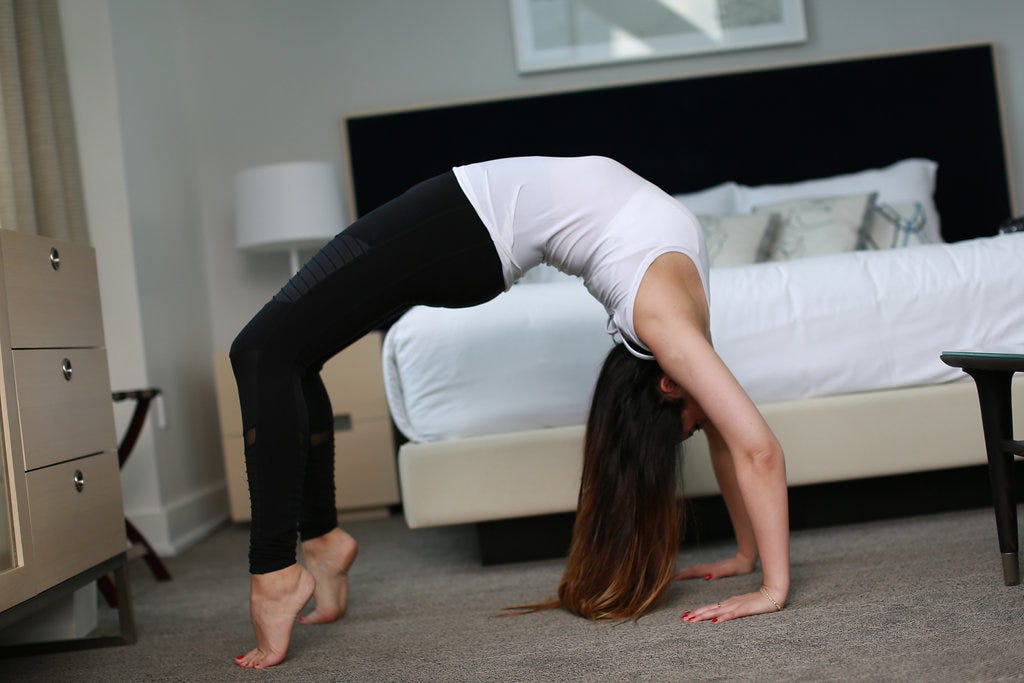 Practicing my Full Wheel Pose
---
If you have any questions about starting a home yoga practice, my passion for agenda meetings, or want me to share the 19 hours of music I've been Shazaming for years feel free to @ me :) Be bold & stay grateful!
Nicole D'Alonzo
email: nicoledalonzo@gmail.com
linkedin | instagram | twitter
Know someone who could use some inspiration in their inbox? Send 'em our way!
---
It's called Genius Steals because we believe ideas are new combinations and that nothing can come from nothing. But copying is lazy. We believe the best way to innovate is to look at the best of that which came before and combine those elements into new solutions.
Co-Founders Faris & Rosie are award-winning strategists and creative directors, writers, consultants and public speakers who have been living on the road/runway since March 2013, working with companies all over the world. Our Director of Operations is nomadic like us, our accounting team is based out of Washington, our company is registered in Tennessee, and our collaborators are all over the world. Being nomadic allows us to go wherever clients need us to be, and to be inspired by the world in between.
Hit reply and let's talk about how we might be able to work together :)
---
SPEAKING
We're currently booking speaking gigs for the year.
Check out full descriptions and key learnings from our talks on here:
http://bit.ly/TalkDescriptions2020

If you're pitching us to others, here's a handy press kit:
http://geniussteals.co/press-kit