The Last Strands of the Year :: Longreads, What To Binge Watch, Mental Health, Last Minute Gift Ideas

WRITING FROM
Beersheba Springs, TN

WORKING ON
nada

UP NEXT:
Dec 20-22: Atanta, GA
Dec 23-30: Nashville, TN
Dec 31-??: Greenville, SC


THE WORD | THESE BRIEF BITS OF INBOX INSPIRATION BROUGHT TO YOU BY...
to all our Whiskey Weekend crew -- Ashley & Erin & Eric & Lauren & Melanie & Juan Pablo & Rachel & Mike & Ben & Yvonne & Mel & Jared & Troy & Aisha & Uyen & Bergen & Madison & Paulie & Jason & Niki & John Allison & Alex & Collin & Megan & Oskar & Chris & Ali & Rashinda & Neil -- thanks for making it such a fabulous way to end our year.

WHAT WE'RE THINKING ABOUT | TAKING A BREAK
Some cultures are great at taking breaks -- whether it's through gap years, or naps, or even just prioritizing disconnecting. It's HARD to take a break when you work for yourself. You can always be working, and sometimes that "can" translates into a feeling of "should," even if we only have our own selves or standards to blame.

One of the things that's been most apparent to us from traveling is how much breaks -- small and large -- help us to be our best selves: as business partners, as spouses, as friends, and just as individuals being respectful to ourselves and our need to relax those cognitive functions every once in a while.

With that said, this is the last you'll hear from us in 2019 -- and then we'll be back in your inbox mid-January. We hope you're able to find time to give yourself a break too -- whether it's disconnecting from social media, work emails, or even just taking an extra long bubble bath!

"Although widely held, the belief that merit rather than luck determines success or failure in the world is demonstrably false. This is not least because merit itself is, in large part, the result of luck.

Talent and the capacity for determined effort, sometimes called 'grit', depend a great deal on one's genetic endowments and upbringing" - Clifton Mark
The 20 Best Dramas Since Sopranos
#NetflixAndChill #HuluAndChill #AllTheStreams
It's cold outside, and that means it's time for you to pick what to binge on next ;) From The Americans to Veronica Mars and even Adventure Time (plus 'classics' like Breaking Bad and The Wire), here are the dramas to binge, according to the New York Times. ::NY TIMES::
2019 Longreads Best of the Year
#ReadingRainbow #WordsFTW #Bookworm
If you're more likely to curl up on the couch to read rather than to watch, might we point you in the direction of Long Reads? From the story of the mortician who turned his family funeral home into a black market organ gathering operation to reckless loans within the taxi industry, these are good excuses for some time alone -- and also provide some good conversation topics to impress your family and friends. ::LONG READS::
How to Manage Anxiety & Depression in 10 Easy Steps
#MentalHealth #NoOffSeason #ThinkOnTheseThings
The holiday season can stir up a lot of emotions in us -- so make sure you're doing what you need to do in order to take care of yourself! This was one of the most popular pieces Faris has written. Even if you're not on a mental health journey that involves anxiety and depression, they're oh-so-common and reading this might help with a little perspective if you have close family members struggling. ::MEDIUM::
ICYMI: Our Holiday Gift Guide
#Behavior #Luck
Looking for some last minute inspiration before Christmas? We've got you covered with our 2019 Holiday Gift Guide. ::::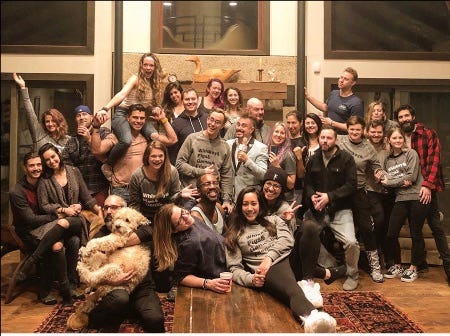 We raised more than $1500 for the Beersheba Springs Medical Clinic
at our 6th Annual Wholemeal Whiskey Weekend!
If we can ever be of help to you, even outside of a formal engagement, please don't hesitate to let us know. We always love getting to meet like-minded folks, so please let us know if you see if we'll be in a city near you :)

rockON,
rosie & faris & ashley, geniussteals.co
@rosieyakob / @faris / @ashley
HIT REPLY & LET'S TALK ABOUT HOW WE CAN WORK TOGETHER.
STILL WANT MORE?
In March of 2013, Rosie & Faris left NYC. They've been #OutOfOffice for 6 years & counting. Want more on the nomad lifestyle? Check out Technomadix.co
Want to collaborate with Rosie and Faris? They are a husband and wife team that consult, speak, write, teach, strategize, facilitate & generally play well with others. You should definitely get in touch.